1.24 TEAM SAIKO/CASTLE 10TH 2021 MONSTER DRAG ESC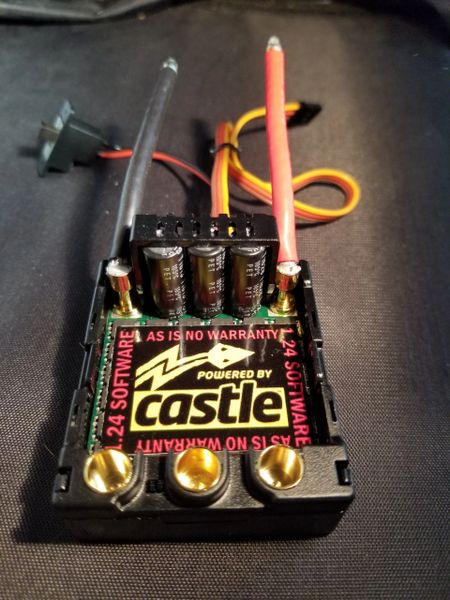 1.24 TEAM SAIKO/CASTLE 10TH 2021 MONSTER DRAG ESC
THIS IS INSANE! THE ONLY 2020 CUSTOM VERSION ESC EVER MADE FOR RC DRAG RACING

AND YOUR LOOKING AT IT.

CASTLE MAMBA MONSTER 1.24 TEAM SAIKO VERSION SOFTWARE
2.35 OZ WEIGHT
2 OUNCES LIGHTER

THAN THE STANDARD VERSION! A LIGHTER CAR IS FASTER OUT OF THE HOLE



10-GAUGE PREWIRED

FULLY PROGRAMMABLE , THROTTLE CURVE BRAKE , ETC
HOLDS PROMOD FASTEST ET OF 1.28 BY MIKE REY!
THIS IS A COMPETITION ESC!
EASY TO PROGRAM, EASY TO UNDERSTAND, IT JUST LETS YOU GO FAST!
THERE IS NO HEAT SINK 
MAKE YOUR OWN THROTTLE CURVE, TIMING, ETC.
GET AN EXPERT 2020 TEAM SAIKO RECORD PROGRAM IN DROP DOWN BOX
A CASTLE LINK IS REQUIRED, AND NOT INCLUDED TO MAKE PROGRAM CHANGES
PERFECT FOR 3S RAILS,3S FC, OR 2S PRO-MODS
MADE FOR DRAG RACE CONCEPTS AND  , RUDIS MOTORSPORTS, ETC   RC 132FT SINGLE PASS RC CARS ONLY!
NOT FOR STREET CARS WITH  GEAR BOXES

YOU GET 1 BRAND NEW TEAM SAIKO/CASTLE ESC, NO ORIGINAL BOX, NO WARRANTY, SOLD AS IS, NO DIRECTIONS
USE EXTREME CAUTION THIS 100% CRAZY FAST!